Peak Performance
You've reached the top and exited the gondola. You look down - eleven thousand, two hundred twelve feet, to be exact. Your adrenaline is racing. The mountain awaits you. Check list. Your poles are strapped, skis locked, mask on. There's no turning back. This is it. WAIT. STOP. What's wrong with this reverie? You spent weeks preparing for this trip. You knew you needed ski lessons; you made all the arrangements with the best instructors. You thoroughly immersed yourself in the history of the region. You bought all the latest ski fashions for the slopes and tasteful apre-ski for cozy evenings at the lodge. Nothing flashy. Nothing that screams "TEXAN." No one would ever mistake you for a novice skier with all your cool gear, and you've even remembered film for the movie camera. What else is there?

What else? You're not even close to being prepared for skiing. You haven't lifted a weight, worked out, or trained with any kind of discipline. Just as all the glamorous clothes or the latest gear won't make up for not being in shape, all the lessons in the world won't do you any good if your body is not in condition to withstand the demands made of it by this physical challenging sport. Thank goodness it was only a fantasy. There's still time to save you with a conditioning program created by competitive skier and professional fitness trainer Jean-Robert Barbette, (pronounced with a French accent), owner of Jean-Robert's Gym in Aspen.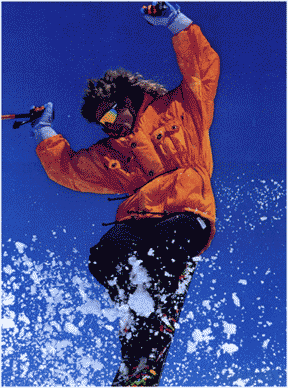 The routine is designed to prevent injuries, while improving agility, balance, endurance and flexibility on the slope. His program emphasizes isometric contractions for muscle toning, rather than for muscle bulk-building. Barbette wants all his skiers in top shape for the slopes, not just his celebrity clients. Jean-Robert recommends that you faithfully complete his program - every routine - at least three times a week, for two months prior to your scheduled trip. And if you don't have access to a gym, that's no excuse. These exercises can be performed at home, right in front of the T.O. All you need is your ski pole (or a broomstick), a chair, and several of your favorite books.

Each exercise focuses on the "hinge" areas of the body (i.e., knees, shoulders, elbows), thus reinforcing the muscle tissue in those areas for better balance , flexibility, and endurance, which creates a good environment for your goal - injury prevention. As a general rule, Jean-Robert says, you'll want to remember to breathe. Now, this may sound silly, but when executing an exercise, you may actually forget this important technique and hold your breath. By doing that, you rob yourself of the full effect of the movement. 

A smart technique is to take a breath with every motion during an exercise. Therefore, your muscles will work more efficiently and effectively. For added efficiency, it is very important to do each exercise in a controlled fashion, Jean-Robert says. Controlled motions do not allow the muscle any relief time, as it would when momentum is used to complete an exercise. "Yes, it's harder," Jean-Robert adds, "but also safer. Swinging motions can cause injury and muscle tears."

Ahh. Here it is. Vast. Beautiful. Crisp. Clean. White. Ajax. No, not the household cleaner. 11,212 feet, 625 acres of ominous, snowy terrain - ready, waiting, wanting to be challenged, conquered - maybe better known as Aspen Mountain. You're anxious, exuberant, elated at the prospect of being atop one of the most famous skiing mountains in the world, one that has challenged the likes of such champion skiers as Zeno Colo, Emile Allais, Jean-Claude Killy, and Alberto Tomba. As you board the high speed, six-passenger Silver Queen Gondola that will take you to the top, you become aware of the crispness of the day, the cool-no-, cold-air on your face, the sun glistening on the powder- white snow. 
Spread beneath you is Aspen, a picture postcard village that lives up to the name, "Crystal City of the Rockies," it acquired in 1890 when it was a thriving silver mining town. And, although your ascent up the mountain only takes 13 minutes, it gives you time to reflect on the exciting history of Aspen and the surrounding area, from the rip- roaring excesses of its silver mining days when fortunes were made and lost overnight, to the world-class ski resort that has evolved over the past fifty years. Now, Aspen boasts cultural and civic advantages that far exceed anything ever imagined by the silver miners of their small mountain community, and the careful preservation of its rich heritage is evidenced everywhere. In addition to the Victorian elegance of the Wheeler Opera House, which features live jazz, classical concerts, and theater performances, and the historic Hotel Jerome, are other features dear to the hearts of Texans - unsurpassed shopping (300 exclusive retail stores), dining and night life (over 100 excellent restaurants and bars), and activities designed for the entire family.

However, what most attracts Texas skiers are the four surrounding mountains, - totaling 3,500 acres of ski-able terrain. Aspen Mountain is the ultimate in snow cat powder tours. Host to the World Cup races - scheduled for March, 1994 - it was the first mountain to be developed for skiing, followed closely by three others - Aspen Highlands, Tiehack/Buttermilk and Snowmass. Andre Roch, a famous Swiss avalanche expert, cut the first trail on Aspen Mountain in the late 1930's. He developed the Aspen Ski Club and designed a run for the use of local children. At that time, skiers had to drive up the back of the mountain to the Midnight Mine and then hike to the summit.

The first ski lift, called the Boat Tow, was constructed after World War II. It consisted of two sleds that could carry up to ten people, and was pulled uphill by two mine hoists and a gas motor. Shortly after Aspen Mountain hosted its World Alpine Ski Championships in 1950, one year after the resort officially opened, Buttermilk, the Highlands, and Snowmass resorts were developed in quick succession. Tiehack/Buttermilk is one of the best learning mountains in North America. Developed in1958 by Friedl Pfeifer, and only a few miles from Aspen, Buttermilk's rolling terrain provides the best experience - in three different areas - for skiers new to the sport. Main Buttermilk provides the best mix from easy to difficult terrain. West Buttermilk is the tamest of the three sections with a quiet, scenic, out-of-the-way route. And Tiehack is better suited to the intermediate-to-advanced skier, with both NASTAR and self-timed racing courses on the lower slopes.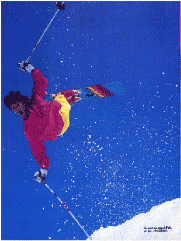 Up the Maroon Creek Valley from Aspen lies Aspen Highlands, whose legendary steep and extreme terrain attracts people from around the world. The Highlands features a vast scenic beginner terrain in addition to the outstanding Ski Academy Ski School. The Aspen Highlands is Colorado's longest vertical run (3,800 ft.) and celebrates 35 years of independent operation this year. Named for the 14,000 ft. Snowmass Mountain, and located only eight miles from Aspen, Snowmass opened in 1967. It's great for cruising, and its 72 runs have something for all level skiers.

You drink in the breathtaking view from that height. Untrained paths reveal sporadic hoof prints of deer and a few broken tree limbs, indicating the midnight rendez- vous of those elegant, docile creatures, reclaiming their mountain from the intruding skiers. You marvel at the panorama of exquisitely graceful aspen trees that adorn the mountainside, balancing the remains of the previous night's snowfall on their frail, triangular leaves that flutter so easily in the slightest breeze. So fragile, they appear, that any collision with a skier would do infinitely more damage to the tree than to the skier.