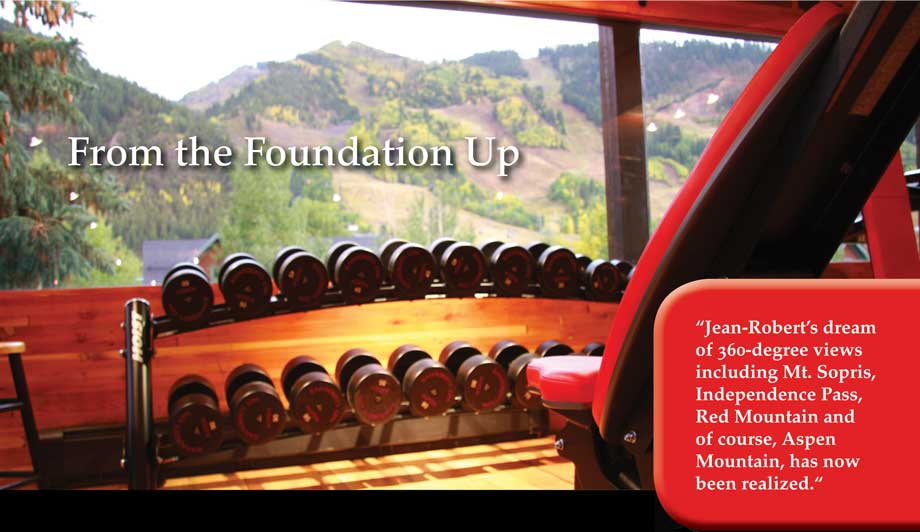 From humble beginnings over 20 years ago to one of the best fitness centers in town, Jean-Robert's Gym has grown to be an integral part of Aspen's community. 

Jean-Robert's mission is to provide members a strong foundation to help them achieve their fitness goals. Everything a person needs to get fit and stay fit, is located in this cutting edge 15,000 square foot facility. Whether you are biking, skiing, rock climbing, hiking or just sightseeing, having a strong fitness foundation will help you enjoy all that the Roaring Fork Valley has to offer. And if you've never done any of these things but have always wanted to, Jean-Robert's Gym will help you find your inner athlete. Every machine, program, instructor, trainer and class is designed to help you succeed. 

Membership at Jean-Robert's Gym is straightforward. Once you come in to check it out, you can join for the day, week, month or year. With your membership, you have unlimited access to the best yoga, body pump, kick boxing and fitness classes around. In addition, you can swim in the lap pool, climb on the rock wall, and relax with a steam, sauna and whirlpool. 

Located right in downtown Aspen this beautiful space inspires. Jean-Robert's dream of 360-degree views including Mt. Sopris, Independence Pass, Red Mountain and of course, Aspen Mountain, has now been realized. You can't help but feel the energy of excellence that emanates from the design of the gym.