Jean-Robert Barbette
When Jean-Robert Barbette was five, his father, who owned a gym in Liege, Belgium, carved a pair of wooden dumbbells and so started his son on a life dedicated to strength, health, and fitness.

By the time he was a teenager, Jean-Robert was a gym teacher and massage therapist in St. Tropez in the summer, and in Courchevel during the ski season. And of course, he skied, monoskied, waterskied, and surfed, all the while building a body thatis its own work of art. Several years ago, on vacation from his job as strength trainer for the French junior ski team, Jean-Robert stopped off in Aspen the only American ski resort we knew anything about back in Courchevel - and found his Shangri-La. Here were these glorious mountains, this glorious snow,and people who really were dedicated to getting stronger, healthier, to ski, to play tennis, to live well, he says. In Europe there is nothing like this commitment. I had to come to Aspen. For his first two years here, Jean-Robert taught monoskiing and worked around the gym world while he worked on his English. A year ago he opened his One-To-One Personal Training Studio, a calm, high-tech environment of glass brick, mirror, chrome, and the best equipment - weights, treadmill, bike, and the like - in the Brand Building.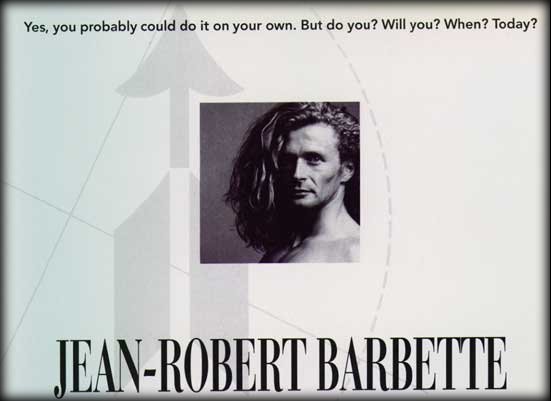 Taking a fitness session with 30-year-old Jean-Robert in this pleasant space is not unlike taking a master class with Baryshnikov. Your own brand of music - rock, Bach, or opera - is already filling the air softly when you arrive, as tailored to your musical tastes as the session will be to your body. As he demonstrates the use of an eight-pound weight or a smooth pole for strengthening, Jean-Robert is almost balletic - supple and limber under a powerful physique.

Like all true athletes, he makes the difficult look so natural that you can't wait to stretch away in this disarmingly effortless fashion. In his studio, Jean-Robert takes one client at a time, each for an hour, from 7 to 11 a.m. and again from 3 to 8 p.m., seven days a week. At midday, he goes monoskiing on Aspen Mountain. Unlike other trainers, he tries not to take time away from his regulars to go out of town or to a private home. I can't make 10 people unhappy just for one, he explains. His average client is 45 to 50; half live in Aspen full time, and the others are visitors and second- home owners; 60 percent are women. While there is no such thing as a typical workout with Jean-Robert , there is usually a five-minute warm up on a treadmill or an exercise bike, followed by a free-weight warm up, then either a leg or a body work- out, upper body first. Then the back. Have you noticed how many body builders work on the chest, the chest says Jean-Robert. The back is even more important for alignment, for posture, so I do twice the back exercises as I do chests. People are here for prevention of injuries as well as for strength. He has many exercises for hamstrings and calves, but recently he designed a new training technique for his friend C. Gottardo, an Argentine Olympic speed skier who needed dry-land training before Albertville. Jean-Robert balanced a teeter-totter board over a 2 x 4. Constantly jiggling the board to replicate the feel of the piste, he trained Claudio to hold an aerodynamic tuck on the board for two burning minutes at a time. In one corner of the studio rests a big leather punching bag, and it's not used to train boxers. It's for clients who arrive in a state of emotional stress, business stress, or anger. Jean-Robert's eventual goal is to build his own gym that anyone can afford. "My father gave me fitness," he says. "I'd like to give it back to as many as I can."