Dancing in the Streets
Jean Robert Barbette
Eccentric! He's only eccentric-looking. You think he's a wild man, but he's serious about what he does, says a client of Jean-Robert, one of Aspen's hottest personal trainers. 

The intensity with which he approaches everything is unusual...but maybe that's what he shares with a lot of Aspenites. He's a bunch of contrasts. Ahhh, Aspen... where a blond Belgian monoskiing model and trainer (recently of Courchevel, Chamonix, and St.Tropez) is just another run-of-the-mill resident...even though he runs his own gym (replete with Jacuzzi in the corner) and a flock of devoted clients willing to follow him trustingly into new and trendy sports (such as in-line skating). 

If Jean-Robert, age 29, is unique, it is only in that remarkably familiar Aspen way. Jean-Robert (pronounced Zshan Rowbear) seems made for Aspen. Maybe it's the hair, or the accent, or his laid-back intensely focused demeanor. Whatever, he has tapped into Aspen's fitness obsession. He doesn't just ski, he monoskis. He doesn't just blade, he dances on skates.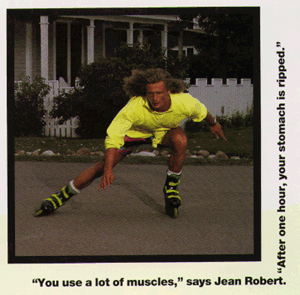 According to friends and clients, Jean-Robert makes fitness interesting and understandable, gearing his sessions to a clientele desirous of quality results...now. We train people who understand that fitness communicates strength, energy, confidence, even power, reads the brochure for his gym. Some come here looking to lose weight and end up advancing their careers. Jean-Robert's philosophy stresses flexibility and alignment as well as strength, and his underlying goal is to motivate people to move their bodies more freely. I take their build into consideration, says Jean-Robert. If Rollerblading can give them something they need, I incorporate it into their personal fitness program. His clients often request an hour of blading instead of a traditional workout. You use a lot of muscles you don't use when you bike or run...after one hour, your stomach is ripped. 

Jean-Robert should know of what he speaks. He grew up surrounded by body sculpture at his father's gym in Belgium. His skating style reflects that upbringing. Tripping through the West End on his Rollerblades... with or without clients... Jean-Robert uses the pavement like a dance floor, his technique perfectly suited to cruising Aspen's neighborhoods. It is less suited to the steep grades outside town, which require more aggressive (and conventional) turns to control speed. Pumping the heel brake is not a foolproof method for Aspen's hills, as Jean-Robert is the first to admit. He lost his brake once on Maroon Creek Road, forcing him to make emergency turns to control his speed. He made it, but the experience reinforced his preference for the flats, where he can skate more freely, and where the price paid for mistakes is not so high. I cannot afford to break my body. It's how I make my money, he says. It's all I have to sell.