The Top 5 Reasons to go with a Personal Trainer
"Ten more!" Bernadette bellows. 

My legs are burning, my face pinched with the effort, sweat dripping down my brow. I want to quit, but I don't because I know she knows when to push me, and when to back off. I know she knows what's best for me, even when I don't. I know this is the time when I make the most progress, when I get stronger, leaner, and healthier—when I workout with a personal trainer like Bernadette who knows how to help me get the most out of my training. 

Jean-Robert's Gym was founded over 20 years ago as a gym specifically created for personal training. It is the foundation for everything Jean-Robert has built and it is the number one name with the longest-standing history in Aspen for personal training. 
Here are the top five reasons we say, "train with the best". Get the most out of your time, money, and effort with a personal trainer at Jean-Robert's Gym.
#1 Yes, you can afford it.
Starting at $65/hour, you'll get more for your money working out one-on-one with our personal trainers than you would wasting hours on your own. Whether you want to train with us once a week, once a month, or even just once—let us create a workout program just for you so that you'll get the best results for your time and effort. This is an investment worth making that will save you time and frustration down the line.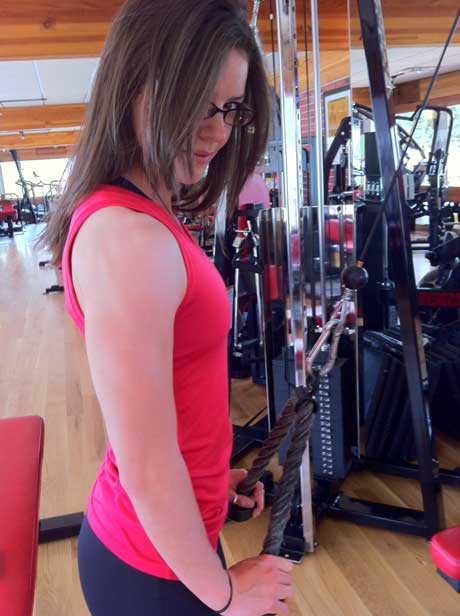 #2 You're just getting on the workout wagon and don't know where to start.
The best thing about Jean-Robert's Gym (aside from the fact that it's the only full-service fitness center in downtown Aspen with the best equipment and 360 degree views) is we're always here whenever you're ready to start a new fitness program. The hardest part is walking through the door. Once you're here, let us do the rest. We'll come up with a program that will help ease you into your routine and insure the best results. We take all the guess work out of it and make sure you don't over-train or undertrain, but progress at a rate that's appropriate for you and your goals. In terms of figuring out the Science of Fitness, let us do the heavy lifting, so to speak! 
#3 You workout all the time but aren't getting the results you want.
The fitness plateau is probably the most frustrating obstacle for any athlete because you're working hard, but it doesn't seem to be paying off. This is a very common predicament for people who have established a routine and might be very dedicated to it, but their bodies have acclimated to the rigors of their training and are not getting any stronger. A personal trainer can help you break through that barrier by determining how to challenge the body in a new way that will stimulate that progress once again and take your training to new heights. 
#4 You need a velvet hammer!
A little encouragement goes a long way, and nowhere is that more true than with your workout routine. The mind gives up long before the body does. The best way to continue to improve your progress is to have that person who pushes you in just the right way—just enough that it "hurts so good" but not so much that you don't want to continue. You should leave every workout feeling energized and invigorated, but challenged. Our personal trainers know exactly where to draw the line.
#5 Form is everything
There's a saying, "Ninety-nine percent right is 100 percent wrong." Maybe we won't go that far, but proper form is essential if you're going to get the most out of your workout routine. Sometimes the slightest adjustment in alignment or range of motion will maximize the results. Poor form will not only inhibit your results, it can put you at risk of injury. Beginners should invest in at least one session with a personal trainer to learn the proper form. But even athletes can benefit from checking in to make sure their form is up to par, or to learn new exercises and how to use the all the new state-of-the-art machines Jean-Robert has installed in the past year. You can lead a horse to water, and maybe you can't force it to drink, but you can at least teach it the proper form!

By Ali Berkley